Saturday! Here it comes..... As soon as we got our breakfast and showers out of the way, we were off to the banquet room to get ready for the big showdown at 3pm! Mary Sue came in and helped us hang up all the posters that Sharon had given us. Mary Sue, great job! I didn't realize until much later how nice all those posters looked on the wall, all spaced perfectly and hanging straight. Sandy and Julie helped us fill balloons, and Julie also helped me hang up the streamers and plaid paper that kept falling down!! I know there were other people there helping us set up, but I don't remember who all was there. Thanks to all of you who showed up to help us!! It was a lot more work setting up than we had anticipated!! Ian and Craig came in at about 2 pm to do their sound check. I decided that I wanted to get out of there at that point, I didn't want to be in the back of the room making noise while they were practicing, so we went out and got our stuff set up outside the door.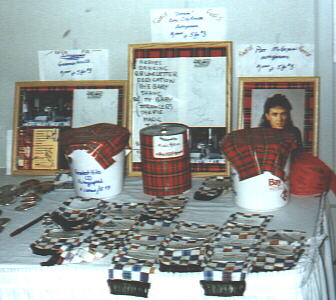 We had a table set up with buttons for sale, Kathy Ritchie's trivia games raffle, and Nicki Sheck's BCR autographs raffle, the fabulous photos and autographs that she had from the Rye concert and also some photos that Pat McGlynn had sent. (Most of the Rollers responded very positively to the fest! Thanks guys!) There were also the great Tartan name tags that Julie made for everyone on our attendee list! Julie, I heard comments about those all night long! They were great, thanks for putting so much time into them! Then we had a table set up by the door to take tickets, stamp people's hands (that stuff took 4 days to wash off!) and give them their goody bags. We also had a guest book for people to sign (thanks Laure!!) and we have thought about passing that book onto the next Rollerfest committee for next year. As we sat out in the hall, we could hear Ian and Craig practicing, they sounded great!! I couldn't wait 'til 8pm! People started to gather around the door in droves! They were waiting to get in, but also waiting to catch a glimpse of Ian, I'm sure. When the last notes died down from the banquet hall, I went in and told Ian and Craig they could go out the back way to avoid getting mobbed. (Sorry girls!) Greg ("karaoke guy") said he overheard Ian saying as he walked out the back door, "Now how do we get back to our rooms from here?"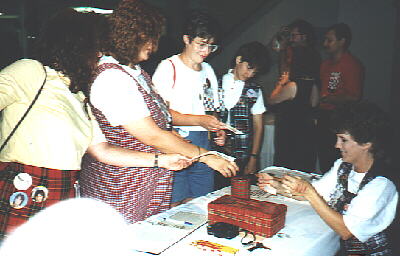 Off they went out the door and the Rollerfest doors swung open. Greg started the Roller music, (the first song was "Are You Ready For That Rock and Roll,") and the fest was underway!! After getting everyone in the door, Cathy and I knew we had to welcome everyone on the microphone, and that would be no easy task, since both of us are kinda "microphone shy!" We had a LONGGGG list of people we wanted to thank, including all of the Rollers and especially Ian, but we never mentioned one name, I think we just said "Thanks to everyone," or something and said "have a good time, thanks for coming" and that was about it!!! People were clapping, I remember, but other than that, it's a blank!! Talk about being nervous! We felt very fortunate to have Greg "Karaoke Guy" Stucki to help us throughout the night with all the announcements! We could have never done it without you, Greg!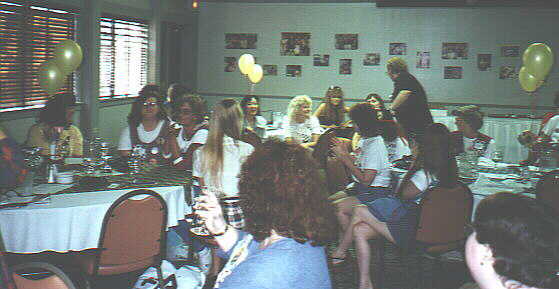 We had set up the room with Roller posters, plaid of a different color on each table, and vases filled with laminated Roller flowers that we had made with posters, construction paper, and pipe cleaners. All the prizes we intended to give out were wrapped in red plaid paper, and we had a Rollerfest cake in the corner. We handed out a bag to everyone who came in the door which included a pencil that said "Absolute Rollerfest '96" along an "Absolute Rollerfest '96" keychain, and a program that Cathy made. The programs were great, I was so proud of the way she made those, they turned out great! She used some of the drawings of Rollers and Roller fans from tour books and the yellow BCR music book. On the front "greeting" page of the program, the cartoon in the bottom corner was the one from '16' that a fan had sent in; Lady Liberty in her Roller gear with some BCR lps under her arm and instead of a torch, she was doing a "thumbs up!"

Also in the bag was the Saginaw News with the article on Rollerfest and Ian's interview. Well, we had welcomed everyone, and it was getting close to 4:00. Wendy was due to give her presentation. I ran down the hall to her room and she told me that she was running late, but she'd be there on time. At 4:00 we drew tickets out of the box for 2 giveaways. We had Roller LP's, Les McKeown's BCR tapes, videos, photos, a rare recording of the Michigan State Fair concert, (Loraine won that!! Her parents wouldn't take her to the fair in 1977, but now she gets to hear what she missed after all these years!) Eric's BCR Bye Bye Baby CD and much more stuff to give out. Wendy was ready.....she told some stories to the group and showed her and Ian's wedding video....unfortunately, I missed most of the video, but I hear it was great! I did hear some of the stories, how Les McKeown walked her down the aisle.....Tammi Lightle was her maid of honor.....Les singing "The Way I Feel Tonight" for the wedding dance. Thanks for sharing that, Wendy and Ian....that was a great time for everyone to see your wedding day. After Wendy's video, she invited everyone to introduce themselves and say where they were from, and share a little story if they had one, as Greg took the microphone to each table. Love that cordless mic! One of the ladies in attendance was from the original Bay City committee that brought the Rollers to Bay City for Roller day in 1977. There were fans from California, Ohio, Indiana, Florida, Utah, New York, Massachusetts, the list goes on....two fans came from Japan! When he got to Loraine's (RainMqt) husband, Greg asked him if he liked the BCR music or if he just came along for the ride, Jim said, "I plead the fifth....." When he got to Sharon's (Rock Goddes) husband, Rick said, "I'm here under protest," and when he got to Michelle's (MGuichard) husband, Kenny said, "I'm Roller-security." As for the Roller music......we played a bit of everything all mixed up....Nobby, Duncan, Eric, Les...you never knew what was coming up next. 5:00. Time for dinner. What a feast! They served roast beef, baked chicken, 3 different kinds of salad, potatoes, vegetable, rolls, it was excellent!! I saw Craig and asked him if he had gotten a plate to take down to Ian's room, and he had. He said that when he walked in, Ian said, "Hey! I'm on tv!!" He was watching "8 Track Flashback" on VH1 which featured Teen Idols, including the Bay City Rollers singing, "I Only Want to Be With You." For dessert, the hotel staff cut our Rollerfest cake and served it with ice cream. "What time is it?" I asked Cathy. 6:00. WHAT? It's time for the games! First we played "Name that Roller Tune" What a blast!!!! I had put 66 various clips of Roller tunes on a cassette tape, one after the other. You had to listen to it and write down as many as you could in order to win. I purposely made the games difficult so we would have a clear winner!! If we had 10 people that had gotten them all right, it wouldn't have been much fun. We repeated the 5 min. clips over again, and in the end, it was Michele (MicMouse63) who won, with the help of the rest of her table. First place for that game was the Bye Bye Baby CD, I believe second place was 5 photos of the band, (donated by Tammi Lightle, thanks Tam!)--I think it was Lisa Proctor who won that....and third place, a red tartan knapsack, won by Gina Fowley. The next game was "How well do you know your Roller lyrics?" We had typed lines from 75 Roller songs, and taken out of context, it was difficult to place them. You had to guess which song they were from. This game was a little easier, but not much. Dianne Stucki won 1st place prize, a tape of Les McKeown's 70's BCR, second place went to Loraine (RainMqt), a the tape of the Michigan State Fair concert, and third place, photos, went to Vicki Cornelius. Then the gang was off into the outer banquet room to play a quickie version of Kathy Ritchie's BCR trivia. Up until that point, we had the tables out there full of copies of '16' magazine, Tiger Beat, newspaper articles, photos, some new, some old..... Some of the trivia questions were: "What's Alan's birthdate?" "What's Eric's starsign?" "What's Les's wife's name?" "What's Duncan's middle name?" "What's Woody's real name?" Kathy started to ask a question, "What sort of honeymoon would you go on...." and everyone yelled out, "Rock and Roll Honeymoon!" before she even finished the question! Another question was, "What is Derek and Alan's mother's name?" to which BCRNutt replied, "Mrs. Longmuir!" Nearing the end of the game there was a tie between team #6 and team #4. The winners of Roller trivia were the members of Team #6! Yea, girls! When everyone came back in, Greg asked for a "moment of silence to honor those who could not be here tonight." Everyone bowed their heads, and after a few moments, someone in back said, "That's long enough!" Now it was time for Nicki to raffle off the Rye autographs, and the autographed photos that Pat McGlynn had sent. And for Kathy to raffle off her great trivia game boards. I wish I had won something!! :-( Prizes for "Who traveled the farthest" went to our two friends from Japan!! Both won Les McKeown's 70's BCR tapes. We were very honored to have them come to the Rollerfest from Japan!! We then put all the winners' tickets back in the box so that everyone would have a chance for the door prizes. One prize was the Roller clock made by Kara (CosmoSplat's) husband, it was fantastic, and I received it the MORNING of Friday Aug. 30, the day I left for Bay City! The clock was "Rollerized" with the photo from the back of the Dedication LP, and right on the clock face, it said "ABSOLUTE ROLLERFEST '96. Bay City, Michigan. Aug. 31, 1996." We had made arrangements for another door prize just in case we didn't get the clock in time. We had an extra Rollerfest tee, and we asked Ian to autograph it. We had also ordered a Rollers jigsaw puzzle with Ian in the photo, but it never arrived! So we had 3 door prizes, but only 2 to give away.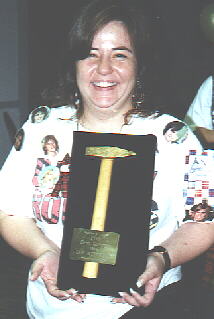 The Golden Hammer winner was announced, Martha was the top bidder!! (BCRollin) Later, she even had Ian autograph it for her, making it extra special for her. During this time, we also had another drawing, and a special fake drawing for Nicki (Caiti had planned this with us weeks in advance) to win the Super hero flying Nicki doll. It was hilarious! I think Nicki liked it! Now was the time everyone had been waiting for. Craig had told Greg to announce that Ian would like everyone to move their chairs up close to the stage for the show. Craig and I experimented with lighting....haha, what there was of it. We found the best way, and it was time......Craig said he would let us know when it was time to announce Ian....Cathy and I got the honors!! First, Wendy was asked to tell some of her stories until Ian was ready to take the stage. She talked and talked about this woman who was working at the local McDonalds who disputed the "Bay City Roller" name. She was SURE that they had been named for a town in Texas! Wendy said if that were true, we better all pack up and get over there, we were in the wrong place! When Craig told me it was time, I kept giving Wendy the "cut" sign, finger across my throat...I didn't think she saw me, so I kept doing it until I thought I was going to rub my neck raw! I didn't want to make Ian wait, what if he changed his mind? LOL! Okay, Wendy finally saw my message, and Cathy and I went up to get the mic from her....in all our excitement, we didn't even thank Wendy for the great story!!! Thanks Wendy and we're sorry!!! Call it temporary Rollermania insanity!! LOL Ian was ready.....were we? I took the microphone and said to the audience; "Are you ready?" They hollered; "Yea!" I asked again, "Are you ready? Are you ready?" "YEA!!!" "And now...." Cathy took the mic "Our very special Rollerfest guest," In unison and loudly: "MR. IAN MITCHELL!" Yells and screams and applause!! I couldn't get over it!! We had just announced Ian!!! How cool! Has any other Roller fan ever had that honor? It was a special moment!!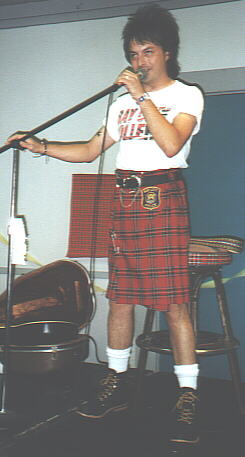 Ian came out dressed in Bay City Rollers t-shirt, and a kilt with a "Bay City Police" patch on it. You could tell he was happy to be there, and the crowd showed their appreciation to him in return. He got onstage and said "Hey, how ya doin? You like the kilt? 'Specially designed by Jeanie, thank you." Some of the girls then brought up the stuffed sheep to adorn the mic stands, a little "Ian joke."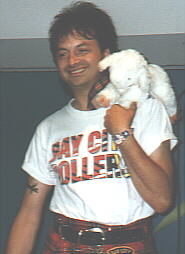 Ian said, "This is Craig, by the way," and the crowd greeted him with applause and "Thank you, Craigs." Ian said "Craig's going to help with some of the vocals." Ian asked everyone to feel as if they were in their living rooms, and went on to tell that they would be doing some of the old Roller tunes, faulty PA and all. They kicked in with both guitars, onto their first tune, "Eagles Fly." Everyone loved it, to say the least! They sounded great together, and right then and there, I decided that Craig should be an honorary Roller, he was even dressed in plaid! After the song, Ian told the story about how after the Rollin' album, a man once said to Eric, "Why don't you try writing some songs in major 7's?" (I assume that is a guitar chord......) Ian went on to say that Eric must have taken it literally, because "pretty much every song after that was in major 7, which is cool, it's a beautiful chord to play on. And this is one of the first ones he wrote in that particular key, and many more to follow just as beautiful." They went on to play "Just a Little Love," one of my favorite Faulkner/Wood songs. A fan said outloud that that particular song was on Rollin'.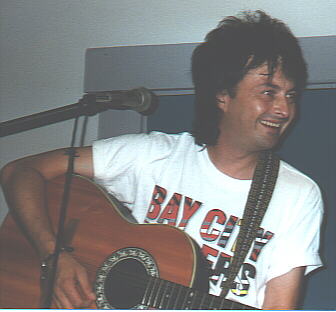 Ian said, "Yea, I know. Wasn't that what I said? No, well, I stand corrected. So that was before Rollin'. Good point. I'm not up on my Roller triva, shame on me! Shame on me!" That fan came up and told me afterward that she felt just horrible when she thought that she had made Ian look bad....that wasn't her intention at all.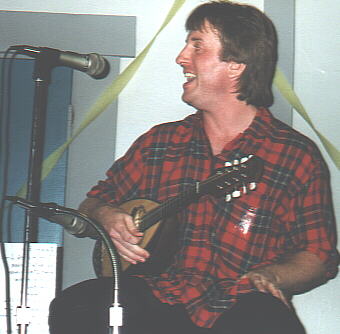 "The next song we're gonna do is a song called 'La Belle Jeane.'" He went on to tell that Jeane and Marlina and those other names were ficticious names. "They didn't have AOL in those days, or else the rumors would have really been flying. As we all know, all you AOL'ers! Where do you guys get these names from, like 'BaaBaaLisa?' Anybody wanna sing some sheep songs? 'Do the sheep.'" Everybody was laughing, even when Craig said: "You didn't teach me that one." Ian started to introduce the next song; "This song is featuring Craig on the mandolin, playing the part of Mr. Faulkner. We called Eric, just to check everything out. We told him we were going to be doing a lot of his songs, which I think is only fair. And I said, 'I just wanted to check with you first, Eric. You know, get your permission to do these songs.' and he said 'Yea! No problem, man, great! Go for it, but if you get a major deal out of it, I want some.....'" That met with the a room full of laughter. Ian said, "No but he was joking, and he said, 'Thanks for asking.'"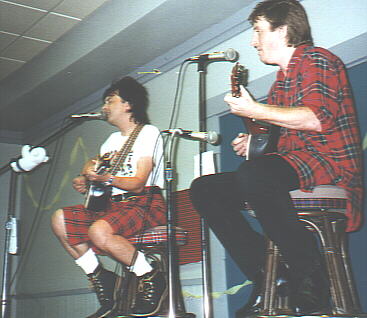 Ian invited everyone to sing along, as they started the song, Craig on the mandolin. It sounded wonderful!!! During the mandolin solo, Craig was really cooking and the crowd went wild! After the song ended, Ian said, "We got it right! Big hand for Craig Wood here on mandolin." Ian started to talk to the audience again, "You guys all having fun? Isn't this great, I mean what they have done? I mean this is absolutely fantastic, it's just incredible. And I know for a fact that if Eric and Woody and Alan had had time, they would have actually come up, Eric told me that on the phone a couple of days ago. It is a shame, but there is a lot of business going on and he needs to be back in London. We've got a company from Japan.... doing interviews with us all. They're doing Pat today, Eric tomorrow, they're doing me on Monday. That should be interesting, for all the people in Japan. I guess we can get it on satellite. Anyway, this next one Eric wrote, I think he wrote this one about me actually." The song was "Ain't it Strange?" Everyone sang along. After the applause died down, Wendy yelled out, "Tammi Lightle's on the phone!" Everyone called out, "HI TAMMI," for our pal that couldn't make it. Craig said into his mic, "Even on the stage, Ian you still get phone calls." Wendy said, "She's gonna be there next year, though, in LAS VEGAS!!" Cheers...... "This is off Dedication," Ian said of the upcoming song. He went on to say that it was one of the songs they considered doing for a single off that album. He explained how they had to vote on slips of paper, their 5 songs that they would want as the single. He said that this one was one he voted for, and he thought that Les had voted for it too, and "Eric too, because he wrote it, 'You're a Woman.'"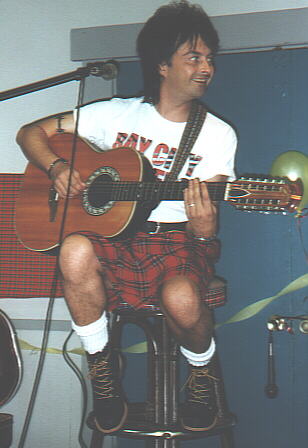 What a great song! Ian did such a great job with every song, though. And with Craig backing him up, they were just fabulous....I was so impressed with how well they sounded together. At the end of that song, Ian said, "Cool, huh?....what a great song! We had an idea for doing a video for this song, 'cause Roller fans were getting older, you guys were no longer 15 and 16 year old screaming lunatics." With that, the fans broke out into wild screams! Ian went on to finish the story, the ideas about the video, using a Roller fan growing up for "You're a Woman," because as he said, "We had most of the history of you guys growing up at the fanclub at Preston Pans, which was cool. You'd send pictures of yourselves at 14, at 15 and 16 and 17, then 18......" The audience laughs. Ian continued, "If you think about it, we all really did grow up together, so we are kinda one big family, which is cool, I think it's really nice." He went on to make fun of himself getting so mushy, by going into an "Evangelist" routine, "Hug the person on your right, praise the Lord!" The next song was off the "Ian Mitchell Band Rearranged" CD, "Goin' Back." Some of the people in the audience who had never heard that song were just dying to buy the CD after the show! They sold out, but lucky for me, I bought mine in 1995!! (Come to think of it....I wish Ian had done "Lonely Nites," my favorite!) Someone shouted out, "Are You Cuckoo?" And Ian said "Probably." He went on to do another song from Dedication, as he said, "I tend to favor that album. I wonder why....probably 'cuz I know the chords. This is called 'Let's Pretend.'" Thank you, Ian!!! I love that song! I kept yelling it out to Les in Windsor last October, but he didn't do it....so thank you!! Everyone in the audience was singing along word for word to nearly every song. Certain songs would find them swaying to and fro, arms around each other. Cathy Rice was in the back, waving her scarf back and forth to the beat. Where was my scarf? In my hotel room, draped over the head of my bed, but I wasn't leaving just to go get it, no way! For the next song, Ian asked if anyone in the audience could play tambourine.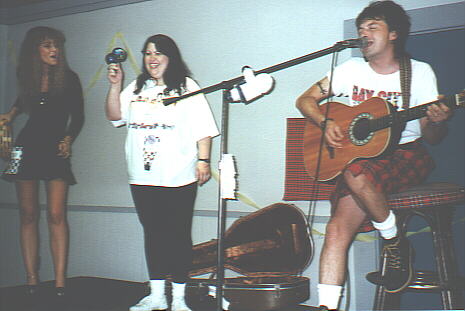 He immediately got a volunteer, Caroline from Canada, and asked her to join them on the stage. He then asked for a volunteer to play maracas, and soon, Gina Fowley was up there too. Ian then told us that we had to work also, as he said, "This requires a hand clap the whole length of the song." Groans arose from the audience, and Ian said, "Hey, think of the exercise!" So clap, clap, clap, tambourine coming in, maracas, guitar, vocals, "Whatever you got, and you got a lot....." It was "Give it to Me Now." The crowd went wild! Ian, you do that song great! Or should I say "WE" do that song great, since we all participated! When it was over, Ian dubbed the volunteers, "The Rollerettes!" Then Ian got a request for a "Happy Birthday" song to Dianne Stucki, and he was happy to comply. She was stunned, and got up to give him a kiss afterward. We tried to tell Ian that Cee (B4THEEDGE) had a birthday too, but Ian said it was "hard with all these lights" to see us!! "He's drinking bleach again," he said of himself. "I'm having fun!" he said. And you could tell he was! The next song, Ian said, was another early song. He said he needed "about another four fingers for this one, thanks Eric!" But it was worth it, "Shanghai'd in Love" was the song. Beautiful! The night was so wonderful, no one wanted this great concert to end, but we had been entertained so long now, it was obvious it would end soon. But not before "The Way I Feel Tonight." Ian and Craig, sitting up on their stools on the stage in front of everyone, made us feel so at home with them. It was very much like being in our very own living rooms, as Ian wanted. It was very intimate and special....especially for this song. Several people got emotional, tears flowed. The song seemed short, though. At the end, Ian said, "That's the edited version...but we haven't got like, a string quartet here. It just doesn't happen on a 12 string, sorry. Technology being what is, though, we'll probably be able to do it pretty soon, not tonight, sorry....maybe next year in Vegas!" ("YEAS!" filled the room,) "Maybe we'll all be there next year in Vegas," Ian barely got the words out before everyone started yelling and hooting, "That would be nice, huh?" he said. Then Craig asked, "Does that mean I'll be out of a job?" Ian said, "Sorry dude." Then the "karaoke guy," Greg yelled out, "Alright, CRAIGFEST here next year!" Laughter filled the room, and Ian said "YEA!" Ian said the concert was coming to a close and everyone booed....but their boos changed to cheers when Ian began, "Dedication."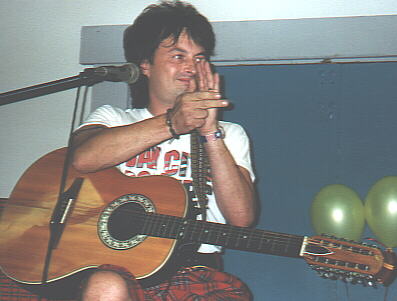 The audience sang so loud, at times they were louder than Ian, and he said, "That's nice." This song was also hard on some people, it was a very emotional evening! Ian received a standing ovation! We thought it was the last song, but Ian said "We can do one more. And there's a very interesting story behind this....when we recorded 'Dedication,' Eric was in his room and he said, 'Come in, I want you to hear something that I'm working on.' He played this song on his acoustic guitar, and I said, 'Man, we've gotta put this on the album.' And Eric said, 'Can't.' And I said 'What do you mean, we can't????' Eric said, 'It's already been decided.' And I said, 'It's GOT to go on an album....I love this song.'" "Yesterday, when I was young...I played the game and never won...thought rock and roll would bless my soul forever......." THIS was the song that got to me! One of my favorite Roller songs, and so true for all of us Roller fans, "Don't Let The Music Die!!!!!" (Please Rollers, don't!!) And knowing it was the end of Ian's concert made it even more emotional..... Someone said that there was "a lot of love in that room," and this was when I felt it most, as all of sang at the top our lungs, "Don't let the musiccccc................" and Ian sang, "Wait-for-it....... "DIE----I-I-I-I.....oooh, ooh, ooh....." Invisible Bic lighters were raised, in a salute to the wonderful Mr. Mitchell and his partner, Craig Wood....we enjoyed the wonderful show, but Ian wasn't done yet.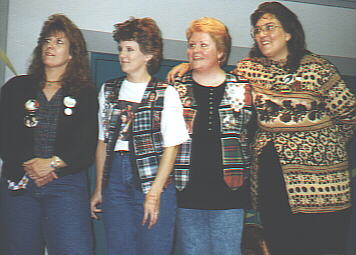 He got up and said into the microphone that they had a special surprise, "..so I'd like to ask my wife, Wendy to come on up here." Wendy came onstage with a bag, and then she called up to the stage, Nick Sheck, Cathy Rice, Kathy Ritchie, and Becky Mosley (though she couldn't remember that last one at first...thanks Wendy! LOL) As we assembled on the stage, Ian began, "First of all, we'd like to thank you, Wendy and Craig and myself thank you for bringing us here and for organizing this whole thing, which is just incredible. It takes a lot, believe me, I've organized gigs myself and it isn't easy....." he turned to the audience, pointed to his face, and said, "Look! Wrinkles!" Ian went on to say that he and Wendy decided "to give you awards, 'cuz you deserve awards." The awards were presented to us one by one. It was so sweet, and I was so stunned....thanks you guys, that was so nice. The 'awards' were trophies. The bottom half of the trophy was done up like an American flag, red and white stripes and white stars on a blue background, and at the top of the trophy, there was a staff with a huge musical note on it. It was perfect!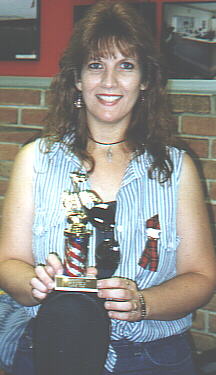 Inscribed at the base, it says: ROLLERFEST '96, (our names here) Love, Ian. One of the nicest gifts I have EVER received!! Thank you both! Greg turned the Roller music back on, and Ian went to take a break before doing his question and answer segment, but he didn't get very far. We had surprises for him as well! Ian's birthday was Aug. 22, so Kathy Ritchie brought in a birthday cake, that after it was lit, looked like a bonfire!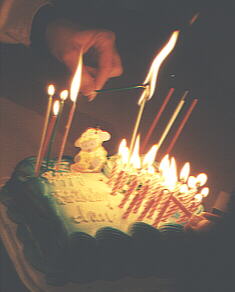 What was in those candles, anyway? LOL!!! Then we all sang "Happy Birthday" to him. Then Cathy and I had the chance to give our gifts, we got Ian and Wendy a Michigan gift basket to thank them for coming, and as a little extra, we got both of them and Craig a Michigan mug for their coffee, tea or whatever! We wanted them to have souvenirs, too! Other gifts were handed to Ian at that time, and he thanked everyone after checking them all out. Then Ian said, "Let's play some Rock and Roll and let's everybody party! Party hearty!" "Burning Rubber" was on. It was time to give the prizes for "Most Creative Rollergear." First place winner, in all her yellow tartan, was Lisa Proctor, who won a jigsaw puzzle of the BCR with Pat. Second place was Jeanie the Bellydancer who won the puzzle of the BCR with Duncan, and third place was Fran from Florida, who won the puzzle of the BCR with Alan. The BCR puzzle with Ian was supposed to be a door prize, we were going to ask Ian to autograph it, but it didn't come back in time. A few minutes later, Ian was back onstage for a question and answer session. One of the first questions was about the beer commercial that Ian is involved in. He didn't really give us any information, he said, "I can't tell. I CAAANNNN'TTTT" The audience groaned and someone yelled, "We won't tell!" Ian laughed, "We won't tell...do you realize by this time tomorrow this will be broadcast all over the world? All the AOL'ers will be dynamo-typers!" Someone asked him how he liked meeting Bill Cosby for the tv special they did with him. Ian said they didn't get along well, because as a 17 year old Irish boy, fresh from the streets in Ireland, the term "boy" was the greeting that he had used to greet Mr. Cosby. Bill came right up in Ian's face and said "DON'T CALL ME BOY, BOY!" It wasn't unti someone explained it to him, that Ian realized what had happened.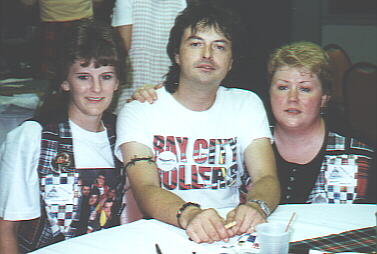 He felt terrible about it, and tried to explain to Bill that it was only a greeting in Ireland, and he had no idea that it was an offensive term, but to no avail. In fact, he said he had sent notes of apology to him for a long time after that, but never received a reply, but he said that he didn't blame him. The next question came from a fan who wanted to know which place he'd lived in that he liked the best. He liked Canada, he said....then he said California was the best, but Germany wasn't bad, South Africa was nice, etc.....I don't think he could make up his mind! Someone else asked where he had never been before and he named Greece, but said that there were many little countries that he had never visited and that he better "get to some of them....maybe they'll all have a Rollerfest, wouldn't that be somethin'? 'Ivan the Roller!'" "Do you get back to Ireland much?" someone asked. Ian replied that he and Les had done a tv special over there, on which the host of the show turned out to be his former English teacher! He said that he had also visited his parents, and visited Terry, Damian and Colin from Rosetta Stone as well. He said that Damian and Colin have a printing business in Downpatrick. Ian told a funny story of a woman who is hoping to marry Terry, but he avoids her like the plague! Ian also told us about all the times that the Rollers had doubled up with his band in the dance clubs before the Rollers had made it big. That made it a natural move for him to go to the Rollers when the time came. In fact, he said that the two bands had similar clothing styles, so he didn't even have to get measured up for Roller gear.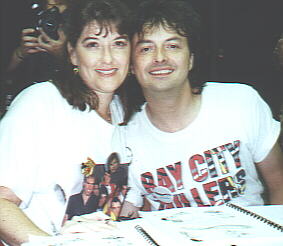 Ian was asked his favorite Roller song, he gave a few: "Don't Let The Music Die," "My Lisa," "Yesterday's Hero," "Wouldn't you Like it?" and "You're a Woman." Someone asked the craziest thing Ian had ever seen a fan do. He told a story about a girl in London who tied her wrist (with her scarf) to the back end of the car. He said they didn't even know she was there, and they were driving along the road doing 30 mph and she was back there going, thump, thump, thump. The karaoke guy said, "Brings a whole new meaning to the term, 'drag queen.'" Groans.... There was another tale of a girl who stowed away in their Winnebago (I believe this was when he was touring with Rosetta Stone.) She climbed in through the roof vent of the Winnebago and gotten stuck and was there for four hours! At this point, Ian said, "Oh, anyway, I forgot to tell you, I got a message from Alan, and Woody and Eric, Eric said to tell everybody that 'all is calm and quiet on the Roller-front, and things are looking good.'" CHEERS! Ian was asked his least favorite Roller song....but said he could not think of one. He said "I really don't think I have a least favorite....you're looking at me like you don't believe me! Alright! 'The Disco Kid'!" A fan asked why America was not on the tour schedule for '83 during the reunion, and Ian said that America WAS in the cards, but unfortunately, they broke up again before they got any dates scheduled. Fran from Florida said; "We are in the middle of a rennaissance of 70's music...KISS has regrouped, Styx has regrouped, everybody is regrouped, younger people are rediscovering the music...would you be surprised if there was a new generation of Roller fans?" Ian said, "No..there already is...we get letters from 15 or 16 year old girls. They're all coming out and they've just suddenly discovered the Rollers. And one of the strangest things, at least in L.A. we've noticed, is people are wearing Roller gear! Which is really strange, and I'm not talking a little bit, I'm talking about the whole kit....it's only recently it's started. There seems to be a resurgence...on MTV they're mentioning the band a lot. We were on VH1 again tonight..." The audience groaned because they missed it! "Yea," Ian said, "I Only Wanna Be With you, with yours truly....you missed, it was earlier, you can't be at Rollerfest and watching VH1 at the same time." Someone said, "You should have come and gotten us!" To which Ian replied, "Oh yea, 'Okay everybody, up to my room!'" The audience liked the sound of that! That was the last question, so Ian thanked all of us before "Baaaaa-ing" and making his way off stage. First, he posed with a few "sheep" and humans as well. A few minutes later, Ian was at a table in the back of the room, posing for photos and signing autographs. He was such a great sport~! We loved having you, Ian, you're a lot of fun! It was such a busy day that Kathy Ritchie never did get a chance to preview Duncan Faure's new CD for all of us. Greg made an announcement to let everyone know that whoever wanted to hear it could meet out in the area where the Trivia was played at 11AM Sunday.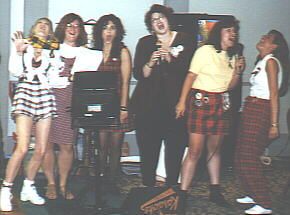 We got started with the Karaoke while Ian was still signing autographs. Greg, as host, started the fun with his version of "You Made Me Believe In Magic." I had fun with my karaoke props, holding up the sign that said, "Les Wannabe" behind his head! Fran was next, I wonder if she realized Ian was still in the room when she sang "Remember?" Good job, Fran! Next to give it a try was Sally Morris, (SalMorris!) Sal sang "I Only Want To Be With You," and she sang it beautifully! Sal kept Les's vocals turned on (you had a choice if you wanted the lead vocals on or off,) and she sang along with him! Around this time, "Ian's girls" were being photographed in the back of the room! Yep, Sal...Ian heard you singing, too! Cee, Julie, Tammy and Barbie (B4THEEDGE, BCRJulie, TFree, and BCROLLER) were next! They did their version of "Rock and Roll Loveletter" and got the place rockin'! Go Tammy! She danced up a storm! Dina Nardo had us all "on our knees" with the next number, "Please Stay!" Sweet! Next was us....a reluctant "us." I did not want to do the song that Greg picked out, but they got me to do it anyway, after Nicki found my hiding spot! Greg wanted us to sing back up to Saturday Night!! The song that gets me more winded than any other! I couldn't wait until it was over! Okay, okay, it was FUN! I don't know whose idea it was, but it was brilliant idea to get a group shot!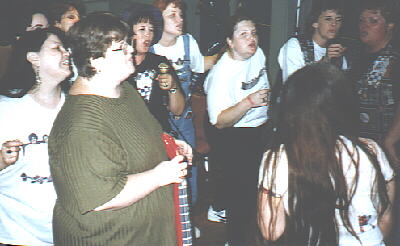 Everyone in the room got up on the stage and had a group picture taken. Some of the hubby's and friends who were just "along for the ride" took the pix. All the cameras were lined up in a row on a chair, and each camera was put aside as they finished. Great teamwork, you guys! Thanks! Next, we did an AOL photo, but mine didn't turn out! :-( I am hoping to get someone's copy, though. Funny, Cathy's didn't turn out, either! Was that some kind of an omen or something? One of our Japanese attendees was next on karaoke, with her beautiful version of "Maybe I'm a Fool To Love You," which received a standing ovation. Karaoke originated in Japan, so she has probably had a lot of practice! Fran came up for her second song, "Love Power." She really got into this one, and when it came time for the keyboard (?) solo, she said, "Hit it, Woody!" Fran, you were a karaoke queen that night! Cee, Tammy, Barbie and Julie were back at it, this time with Kathy Page and Wendy joining in for "Give It To Me Now."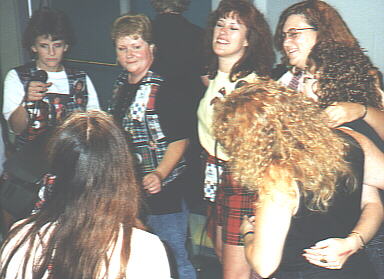 The shoulders really made the song, gals! You gave it your all! I believe this was the karaoke highlight of the night! Lisa Proctor gave them her yellow tartan scarf, and that was all she wrote! Hilarious! All night long, we had given away 2 prizes nearly every 30 minutes. It was time for more prizes. In fact, it was getting so late, we decided to give them all away at once! Many people at left by that time, and we didn't want to miss anyone else, so we drew for all of them. (By the way, thanks for the Hot Scots pencils, Sal! And thanks to Mary for the 45's! I hope I haven't forgotten anyone, but everyone was very generous! Also, thanks to Julie for loaning me your watch!) I think almost everyone got a prize that night, I hope you all enjoyed them! It was FUN giving things away!!!! Back to the karaoke, this time it was Wendy and Kathy doing "My Teenage Heart." What a song! How true that song was when we were teens, aye? I'm sure the Rollers knew that when they sang it, too! Barbie and Cee were up next, to do the sentimental Woody song, "Love Brought Me Such a Magical Thing." LOVE IT!! So many great songs to pick from! Could you imagine a radio station like that? AllBCR, Allthetime! Karaoke went on for a couple more hours, then it was time to say goodnight. We didn't want to go, and it was obvious that nobody else did either.
Ian came back down for pizza and everyone was sitting there watching the Krofft shows when the hotel guy came in and gave us the "boot!" It was done, there was nothing we could do about it. Cathy and I cleaned up and went to our room to collapse! Sandy said, "You wanna go up to the bar?" But when I looked at the clock, it was 2:00AM! We were so tired anyway, what a day it had been! All worth it, too!