Sunday morning came, and it was hard getting out of bed! My legs were literally sore! I don't think I sat down at all on Saturday! We made it downstairs for breakfast in this beautiful dining room called the "Greenhouse" room. Named that, I suppose, because the ceiling was made up of all glass, like a greenhouse. The sun came beating through there, and that was it, I was headed for the shade!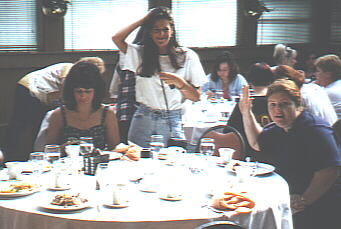 We had a nice time at breakfast, Kathy Ritchie came in and wondered why no one had shown up to hear Duncan's CD, but nobody realized how late it had gotten. Check out was 12, so we had to go. We said our goodbyes and packed up our cars, then we wanted to go and find Nicki to say goodbye. Her room was right by the door where we had our cars parked, so we ran in to give our hugs, and then Ian came out in the hallway. We were glad we got a chance to say goodbye to him, we wouldn't be around when it was time for him to catch his flight, so we said our goodbyes and thank yous right there in the hall. A fabulous weekend had come to an end. You'd think anyone would be sick of Roller music after that weekend.....but not me...first thing I did when I hopped into the van to head down the expressway back to South Lyon was pop in my tape of "BCR, LIVE IN JAPAN!!!!" I want to thank everyone for all the success of Rollerfest! Some people donated their time, some people donated prizes, some people helped us set up, some people helped us clean up....I want to thank you all!! Everyone was filled with such enthusiasm, it positively bounced off the walls in Bay City!! And of course, I have to thank all the Rollers, thanks for the music, fellas!! When Greg introduced as at the beginning of the 'fest, he said, "Becky and Cathy....they are the reason why we're here tonight," and I said, "No, Greg....the Rollers are the reason!" Let's hope we never forget that! And let's hope the Rollers never forget it, either! Rollermania!! May there never be a cure!! ROLL ON!
Becky Mosley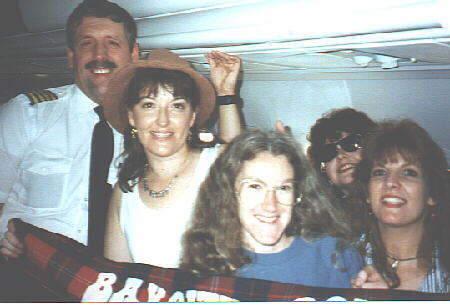 See you in Las Vegas.....